Recycling Program & Calendar
*Support of this recycling program provides revenue from the sale of recycled materials to the city of live oak general fund operations, but more important, it benefits our environment by not filling sanitary landfills unnecessarily. The following information is essential to the success of the program.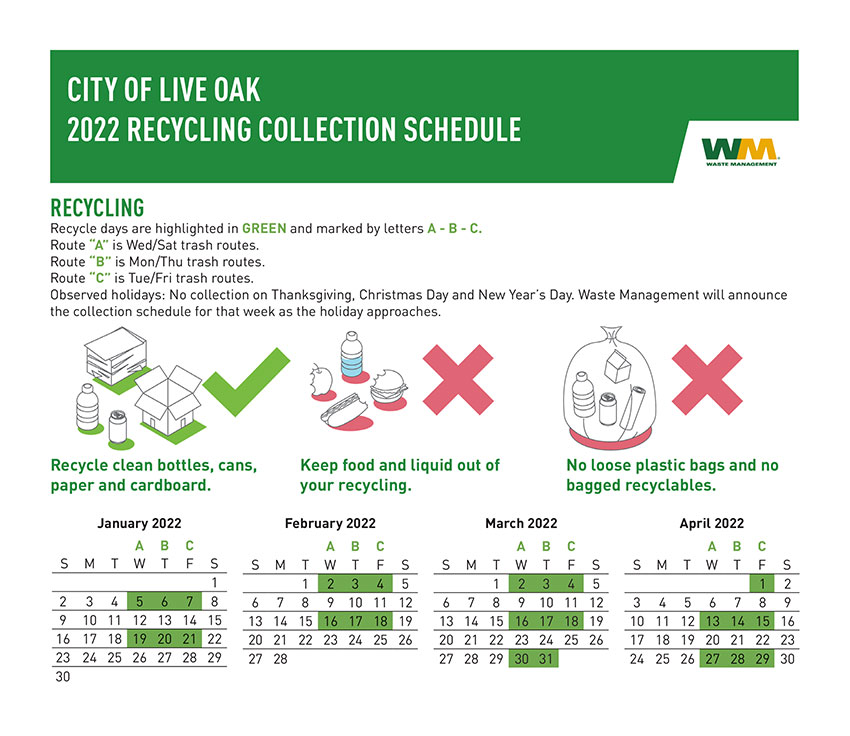 ---
Materials that currently can be recycled:
Paper
Most types of paper, such as ad circulars, catalogs, carbonless paper, dry goods packaging with liners removed (example: cereal, pasta, rice, beer/soda cartons) envelopes, file folders, flattened cardboard, junk mail, magazines, newspapers, office paper, paperback books, paper bags, paper towel/toilet paper cores, phone books, non-metallic gift wrap.
Plastics
Labeled #1 through #7. Look for the recycling symbol

on the bottom. Remove lids and rinse any remaining food or liquids from containers or trays. Examples include: beverage bottle, shampoo and lotion bottles, meat trays, condiment bottles, prescription and medicine bottles.
*Plastic grocery bags should be taken back to your local grocery store for proper recycling. These bags get clogged in the Waste Management recycling machines.
Metal Cans
Aluminum, steel and tin beverage and food cans, rinse all food or liquids, aerosol cans, empty and remove nozzle, baking tins, rinse and remove remaining food..
*Flattened recyclable plastic or metal containers will conserve recycling bin space and reduce the chance of material blowing out of the bin.
---
Materials NOT included in this recycling program:
Auto Parts and Motor Oil Containers
Clothing and Shoes
Coat Hangers-plastic and wire
Diapers
Glass Bottles and Jars
Plastic Grocery Bags
Plastic Utensils
Tissue / Toilet Paper
Remember, all materials that are not recyclable should be placed in your normal trash/garbage container (or disposed of in accordance with law, such as batteries, tires, etc.)
*Recyclable materials do not have to be sorted prior to placing them in the bins or at curbside. recyclable materials that will not fit into a bin may be placed beside the supplied bin as long as it is contained in some manner (tying, boxing, etc.)
Household Hazardous Waste Collection: 1-800-449-7587
Note: Recycle material pickups will be every two weeks.
---
Bins Are Owned by Waste Management
The recycling bins are assigned to a residence, not to the customer. They are to be left at the residence should the customer move to another location. The taking of a recycling bin by anyone other than an authorized representative of Waste Management could be considered theft and may result in criminal charges being filed against the person removing the bin.
Recycling Bin Loss Procedure
Any theft, loss, or destruction of a recycling bin must be reported to the police department as soon as noted by the customer.
The Police Department will forward a copy of the report to the Utility Billing Department.
Utility Billing personnel will notify Waste Management of the theft, loss, or destruction and will request replacement of the bin which will be accomplished by Waste Management as soon as possible.
Telephone Numbers:
Waste Management: 210.368-5000
Municipal Offices: 210.653-9140
Police Department 210.653-0033
The recycling program for Live Oak is implemented with no rate increase for the citizens or expenses to the City. 100% of the revenue from the sale of residential curbside recycling will be returned to the City of Live Oak. The recycling program is clean, simple and above all, beneficial to our environment and city. Please participate to the fullest.
How To Donate or Recycle a Mattress:
Tuck Sleep Foundation is a non-profit community devoted to improving sleep hygiene, health and wellness through the creation and dissemination of comprehensive, unbiased, free web-based resources. Tuck has been featured on NPR, Lifehacker, Radiolab and is referenced by many colleges/universities and sleep organizations across the web. At this point over 15 to 20 million mattresses are disposed of annually and far too many of them end up in landfills or even just on sidewalks since not all of us know what options exist when it comes to mattress disposal. The team at Tuck created a guide to help combat this problem and will benefit our residents. To learn more about how you can donate or recycle a mattress, click here.
---
Household Hazardous Waste Disposal
Do you have used motor oil in your home? Fluorescent Light Bulbs? Pesticides? Old Paint? Unwanted TV or computer?
Click here for WM At Your Door Flyer.
This program has been a huge success for the City of Live Oak.
Call 1-800-449-7587, make sure that you tell Waste Management that you are a Live Oak Resident.
They will send you a bag or bags.
You place the bag/bags at your door and they pick them up.
It's that easy!